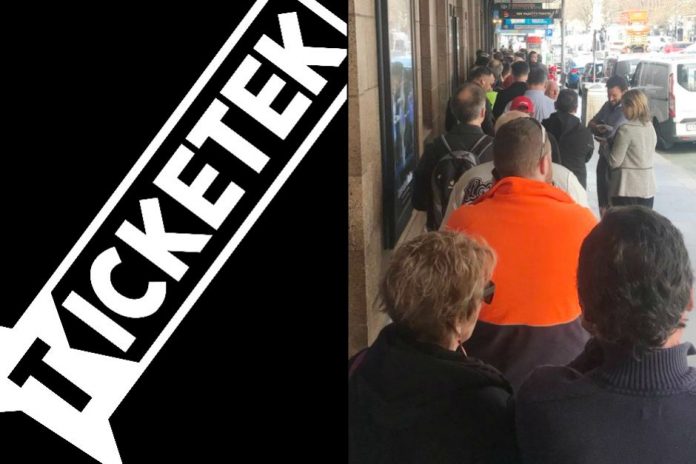 Event ticketing company, Ticketek has publicly apologised to fans for how they will inevitably make a mess of selling tickets to the AFL Grand Final.
"We're certain there will be completely unforeseen demand for tickets, and we'll be totally unprepared for it" said an executive for Ticketek.
After public outcry following the problems that occurred with ticket purchasing for the first week of AFL finals, the company which literally only has one job suffered further difficulties when seats to the preliminary finals went on sale.
"I'd like to point out a few things regarding the complaints about Monday's issues" said the Ticketek executive.
"First of all, it wasn't as much of a disaster as week one, so let's focus on the positives.
"Secondly, we didn't expect Collingwood supporters would know how to use the internet, so we obviously couldn't factor that in.
"And thirdly, we've been royally cocking up every big final and event for years, so why is everyone still surprised?
"If you're criticizing us for being unprepared for something that happens over and over again, how about you take a look in the mirror and ask yourself why you bother trying to buy tickets from us".
Some critics have made the outlandish suggestion that Ticketek should purchase enough servers to handle the web traffic required for the company to do its job properly.
"That's ridiculous" said the executive.
"We make way more money by screwing everyone over each time and we still get the gig every year, so there aren't any consequences for us.
"The horrible service we deliver allows us to keep the handling fee for printing out your own ticket under $10.
"At the end of the day, if the event is popular enough, people will eventually buy all the tickets anyway, so who cares if it's a terrible experience for everyone involved?".
In better news, the technical problems didn't prevent AFL CEO, Gillon McLachlan from securing premium seating for a number of suffering au pairs who have never experienced the simple joy of watching a live preliminary final from a corporate box.