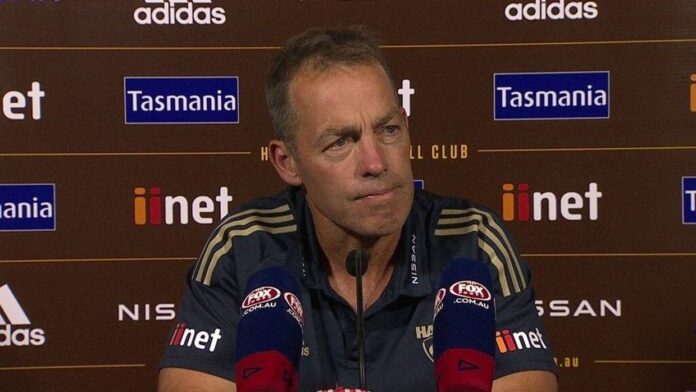 The Hawthorn Football Club has committed to a succession plan with four-time premiership player Sam Mitchell to take over from legendary coach Alastair Clarkson in 2023.
It's been reported that Clarko wants to spend more time on his other job, which is managing the league as a whole.
The dual role became a bit too taxing on the veteran coach who wants to devote his attention to telling AFL CEO, Gillon McLachlan what to do full-time.
"I guess I'm not as young and spritely as I used to be" Clarkson told Seems Legit.
"While I still love coaching, it's important that I can give more time and energy to running the league broadly".
Clarko's close relationship with the official AFL CEO has been known for some time, highlighted by their regular coffee catch-ups and when the Hawks' coach told McLachlan to change this year's new substitution rule roughly 20 minutes before the start of the season.
"It's not always the case where you can call your boss a good mate, but I've been lucky enough to have that with Clarko for several years" said McLachlan.
"I'm actually really excited to have him running things full-time so I don't have to be calling and asking what to do every five minutes" he joked.
While there have been critics of Clarkson's influence over the AFL, McLachlan believes it would have been negligence if they didn't run decisions by the coaching legend.
"He has perhaps the most revered football brain in the game's history, so when he's wanted to put through an important rule change or hold a meeting with the umpires about how they need to perform, it's invaluable to the league".
When pressed, Clarko himself admitted he might not oversee the league forever though.
"Well we've organised a succession plan for the Hawthorn coaching position and I'm really excited about that.
"It would be great to do something like that again, so hopefully if I mentor Gill for a few years, he might be ready to take over from me and run the league himself someday".