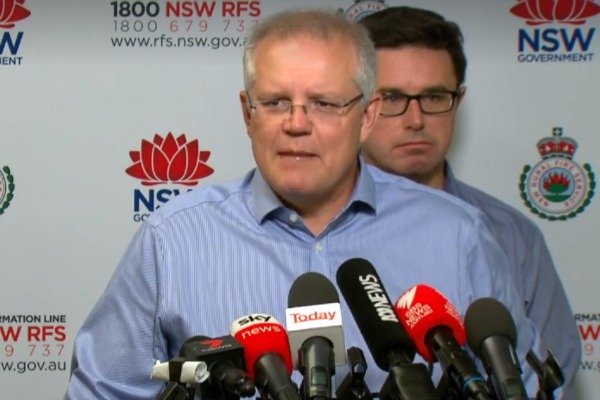 Prime Minister, Scott Morrison has hit back at criticism of his exotic holiday during a national disaster, in a stirring press conference upon his arrival back in Australia.
"After showing no leadership and taking no action in response to the devastating fires for several weeks, I figured a little trip to some Hawaiian beaches wouldn't make a difference" said the inspirational PM.
"I'm not going to stand there and hold a hose, I'm perfectly capable of doing nothing about the bushfires remotely".
Scomo had reportedly been embracing the Hawaiian culture during his family getaway, gorging himself on the traditional delicacies of the land, which was mainly ham and pineapple pizza.
"Not sure I'll be able to cope with a humble Domino's after tasting the authentic stuff" said Mr Morrison.
"It's true what they say, there really is nothing like the real thing.
"I've always been of the opinion that you've got to fully immerse yourself in the ways of a foreign land when you're visiting, and that goes even beyond the pizzas for me.
"Did you know that in Hawaiian culture, it's very impolite to ask government ministers about national disasters? I think there's a thing or two we could learn from these noble people. How good is a pina colada?"
Opponents of the decision to take a holiday have also taken aim at the refusal to confirm where he was by the Prime Minister's office during the week.
A few days ago, Morrison had suggested that the reason for the secrecy about his trip actually wasn't because he wanted to avoid being roasted like a pig at a Hawaiian luau, but to give his daughters 'a bit of a surprise'.
"I'm just a fair-dinkum regular Aussie dad like you blokes, trying to do something nice for my family" insisted the PM.
As admirable as it is to throw his own daughters under the bus to reduce political fallout on himself, some critics have questioned the validity of his claim.
"Firstly, if it was a surprise, cancelling the trip due to the national disaster wouldn't have disappointed them as they didn't know about it, and he wouldn't have had to 'keep a promise to his kids' like he said in the press conference" commented one reporter.
"Secondly, if the reason for the secrecy was the surprise, surely the Australian public could have been informed after they arrived in Hawaii, instead of journalists being lied to by the Prime Minister's office.
"You'd hope that after landing in Hawaii, family members on that flight would be aware they're in Hawaii and the surprise trip no longer needs to be kept secret from them".
Despite this, Morrison's immense popularity was highlighted by the large crowd of people gathered outside Kirribilli House on Saturday, who were eagerly waiting to greet the PM upon his triumphant return.
Such was the excitement to see the man they adore so much, that police even threatened to use force and arrest a 13-year-old girl waiting to see her hero.