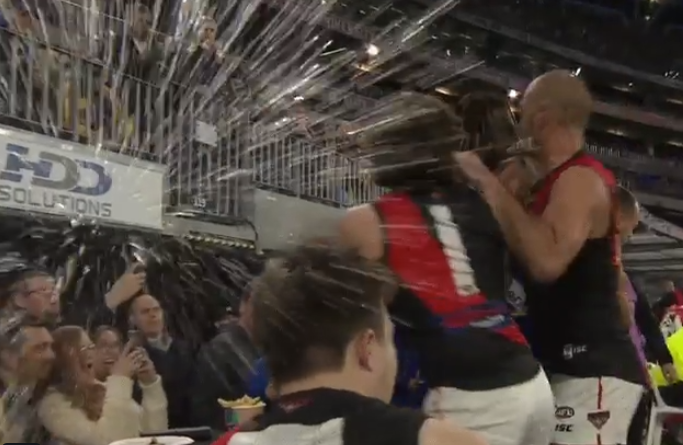 Following an on ground scuffle in Thursday's AFL elimination final between the Eagles and Bombers, it has emerged that one fan threw the contents of his cup at Essendon players, and the liquid turned out to be beer.
"This has no place in our game" scolded AFL CEO, Gillon McLachlan.
"Do you have any idea how much a beer at Optus Stadium costs? It's $25 for the 220ml cup they refer to as a 'big pint'.
"To waste such an expensive and precious beer in this era of resource shortages is absolutely disgusting! You realise the Amazon rainforest is burning right?".
For many this was seen as typical behaviour from snobby West Coast fans whose wealth has put them out of touch with the plight of the common man.
Former Bombers player Brendon Goddard has been perhaps the most critical of the beer spiller, with a barrage of savage tweets that labelled the man a 'scum bag' and called on the AFL to introduce the death penalty for anyone caught deliberately wasting drinks during games.
The fracas that triggered the fan to throw his beer started with Essendon's Zac Merrett pulling the hair of Eagle, Nic Naitanui.
Some objected to Nic Nat's fierce slamming of Merrett into the fence in retaliation, however it's since been revealed that it wasn't the first questionable tactic used by Merrett on Naitanui during the match.
Seems Legit has been advised that prior to the hair pulling, Merrett had attempted an Indian burn, wedgie, and wet willy to get under the skin of the West Coast star.