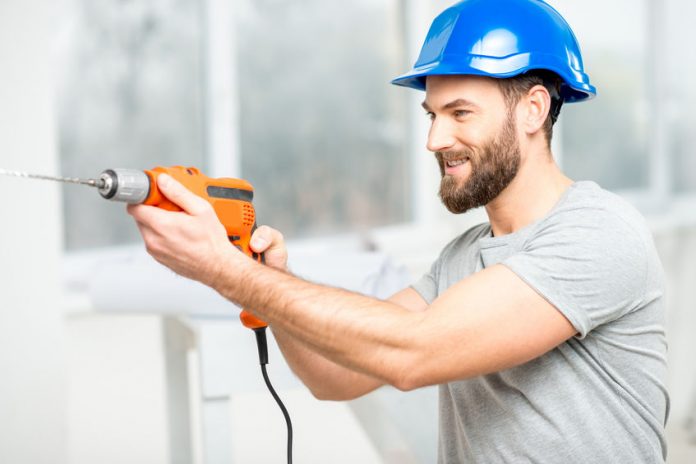 A large office has recently fallen victim to the extreme volume of a tradie's electric drill during business hours, it has been confirmed.
"I'm not even sure why he's drilling" said Max from Accounting.
"I mean, he walked in confidently as though he was supposed to be here, but no one seems to know who authorised it and what the actual purpose of the drilling is.
"He didn't talk to anyone beforehand to check it was okay, or apologise for the noise and reassure us that it was important but wouldn't take long, just strutted into the office with a big drill and was straight into it".
Despite the puzzled and annoyed looks from dozens of workers, the tradie seemed completely oblivious to the fact that the noise from his drill was making it impossible for anyone to work.
"During one of the brief pauses that lasted only seconds, someone could clearly be heard yelling 'I can't hear anything, I'll have to call you back' to a client on the phone.
"But he just cranked it straight back up after that. He really doesn't give a f**k".
Witnesses told Seems Legit that he disappeared after about half an hour of drilling with it still being completely unclear what he had achieved.
The tradie was then spotted entering one of the meeting rooms with what appeared to be a jack hammer, enabling him to generate even more volume than before.
"After that he had a piss in the men's room and didn't wash his hands, before helping himself to the communal biscuit jar in the kitchen" said Max.
"I'm pretty sure he could have managed all that clearly vital work outside of business hours".
However, the biggest disappointment came from several of the female staff members, who complained that 'he wasn't even hot'.
Seems Legit has since contacted the building manager for the office, who claimed to have no knowledge of booking a tradie for the work, but insisted that he'll be getting the filtered water tap fixed ASAP.