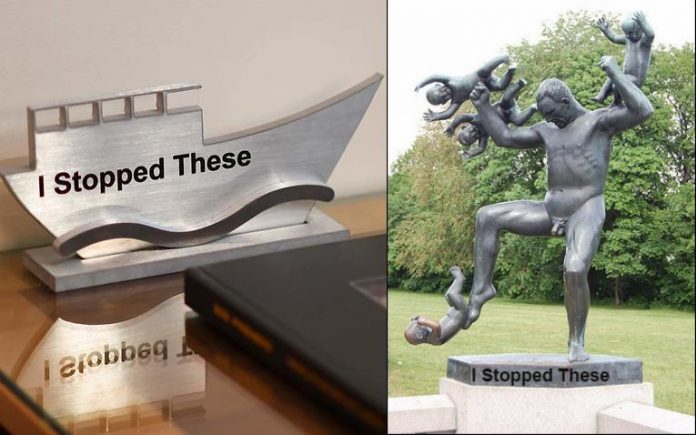 Prime Minister, Scott Morrison isn't the only member of government with a trophy celebrating their ability to prevent asylum seekers from entering the country, it has emerged.
A photograph of Peter Dutton's own trophy has been revealed and appears to be even more horrific than Scomo's.
"He's really proud of how he's protected Australia from the dangerous children who pose such a threat to our way of life" one Liberal staffer told Seems Legit.
While Scott Morrison's trophy of a boat that reads 'I Stopped These' was small enough to fit on his desk, Dutton's is actually a life size statue he allegedly designed himself.
"It depicts Dutton as he truly sees himself, muscular, still has most of his hair, and always protecting the nation from threats, which in this case are refugee children" said the Liberal staffer.
"It's comforting to know Peter Dutton is out there imprisoning these fearsome kids in Nauru so that we can sleep safely at night".
While there are those within the government who believe the depiction of him fighting children is a metaphor, workers in off-shore detention centres have claimed this is a pretty standard part of Dutton's visits.